It has been four years since Apple has overhauled the design of the MacBook Pro and today Apple aims to breathe new life into the series. Designed for developers, the MacBook Pro has always featured top of the line specifications to push the limits of computing of its time. Now thinner, more powerful, and seemingly more innovative than ever before. Apple aims to bring simplistic, easy to use controls at your finger tips. The new OLED display between the keyboard and screen (which used to be function keys) dubbed the Touch Bar utilizes taps and gestures to perform a wide array of tasks. The bar includes Touch ID powered by the company's very own T1 chip for security. Touch ID can be used to make purchases as easy as a finger press with Apple Pay.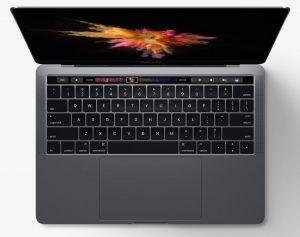 One of the biggest changes of the device is it's inclusion of all new USB C ports. Any slot doubles as a charging port for the device. Long gone is the need to worry about where you are to get a comfortable charging area. These ports can be used for anything. Thunderbolt, USB, HDMI, DisplayPort, VGA, you name it. The downside? No more specific ports. You will need an adapter to get the compatibility with your older devices.
The device launches in many types of configurations and and claims no matter which model you get, it will be twice as fast as it's previous generation. Learn more about the different specifications and configurations at Apple's website here. Pre-orders expected to ship in 2-3 weeks.