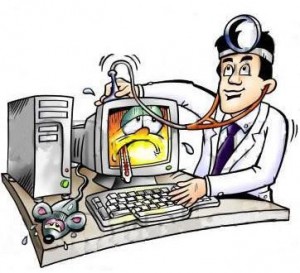 In the last 2 blog posts we have addressed common and dangerous computer security threats and have discussed the # 1 computer problem – slow computer performance. The following post will expand on the topic of widespread computer issues. KARLS TECHNOLOGY hopes that this essential computer knowledge will help technology users prolong the lifespan of their digital devices!
What's the strange WHIRRING NOISE coming from inside your PC? Most likely this is a sign of an overtaxed or dying FAN. Your fan may have come loose or may have become clogged with dirt and dust, decreasing its effectiveness and requiring it to work harder than it should have to. Thus, it is vital to clean out any dirt and debris that may obstruct the computer's ventilation. A non-functional fan can potentially cause OVERHEATING as well. All components of a computer demand appropriate and sufficient ventilation and cooling, as they generate heat during operation. When you are dealing with any kind of odd computer noise it is of utmost importance to perform a backup of all valuable, irreplaceable files saved on the system's hard drive. Although clicking sounds are the predominant, ominous indicators of a HARD DRIVE CRASH, failing to acknowledge other strange noises as a sign of a potentially serious issue could result in catastrophic data loss. There are many possible causes for hard drive failure, including overheating, faulty air filter, power surges, violent vibration, static electricity, mechanical failure and virus infection.
Your PC's longevity is top priority!