Many Windows 10 OS users have complained about the new update slowing down or even crashing their computer. It can be a nuisance and often frustrating, especially since in the new operating system downloads updates automatically without any notice.
Thankfully, Windows 10 gives you the opportunity to choose to pause any updates on downloads and installations. So if you're not prepared to install, here's how you can pause it:
Start Menu
Settings
Update & Security
Windows Update
Advanced Options -or- Pause updates for 7 days
Select the drop-down menu and pick a date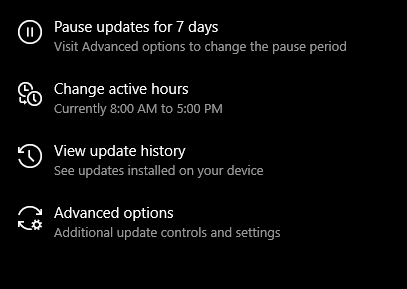 Windows notes that you will have to install the latest updates before you will be able to pause again.
(This tip works with Windows 10, version 1903, Windows 10 Pro, version 1809, or Windows 10 Enterprise, version 1809)
For help with Windows 10 updates, call us at 1-800-620-5285.  Karls Technology is a nationwide computer service company with offices in many major cities. This blog post was brought to you from our staff at the Denver Computer Repair Service, if you need computer repair in Denver, CO please call or text the local office at (720) 441-6460.