While there are numerous ways to screenshot on your Windows operating system, including pressing CTRL (located on bottom left corner of your keyboard) + PRINT SCRN key (located near the top right corner). This screenshot will then be saved to your "Screenshots" folder in your Pictures. You would then have to upload your picture to a photo editor and cut out the part you only need.
But thankfully there is an easier way.
Use the Snip & Sketch feature. Here's what you need to do:
Click Start Menu + Shift + S. The Snip & Sketch tool will pop up.
There will be 3 options to choose from, fullscreen screenshot, rectangle clip, and freeform.
Click and drag the part of the screen of your choosing.
At the bottom right part of the screen, Windows Clipboard will pop up. Click on it and edit if necessary.
Last, just save it to your computer.
You can find all of your screenshots saved to your Windows Clipboard by simply clicking Start Menu + V.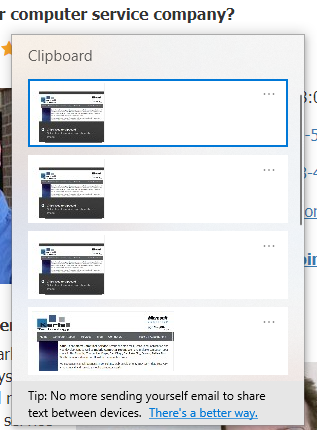 For inquiries with Windows 10 updates, call us at 1-800-620-5285. Karls Technology is a nationwide computer service company with offices in many major cities. This blog post was brought to you from our staff at the Frisco Computer Repair Service, if you need computer repair in Frisco, TX please call or text the local office at (469) 299-9005.